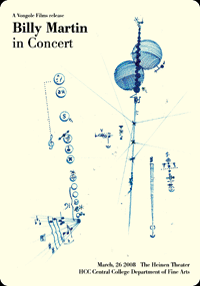 1- Opening titles
2- Six Grandfathers
3- The Daybreak Star Herb of Understanding
4- Whirlwind Chaser
5- Killing the Drought
6- Duck Pond
7- Starlings by Starlight
8- Burundi
9- Pahoihoi Variations
10- Guavas Feeding Birds
11- Lele-Yara
12- Closing credits



From Vongole Films:


BILLY MARTIN
BILLY MARTIN IN CONCERT - Coconuts Feeding Birds DVD
NTSC ALL REGIONS DVD / WIDESCREEN / 74 MINUTES / LIMITED EDITION OF 500

Billy Martin balaphones, gongs, mbiras, caxixi, pandiero, congas, drum set

Billy Martin was commissioned by Houston Community College Department of Fine Arts to perform at the Heinen Theater. The school set the stage and documented what proved to be one of his best solo performances to date. Billy performed some of his Black Elk Speaks compositions including new music for balaphones, gongs, mbiras, caxixi, pandiero, congas and drum set. The solo performance is 1 hour. Included is a 14 minute slide show with personal commentary about his master class,the instruments and philosophy behind his compositions and performance.



Other solo recordings:

Black Elk Speaks

Solo Live Tonic 2002

Starlings

illy B Eats Box sets