I decided to personally silk-screen the layout art for the limited edition Black Elk Speaks CDs because the music and the vision is so personal to me. It was quite an undertaking and I'm still not finished with all 900 CDs. I had the help of volunteers and friends of MMW's own Owen McGovern (who runs the merchandising deptartment Indirecto).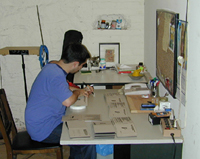 Owen inspecting the covers
It was a very tedious process, but we managed to get a run of about 300 almost complete. The next time will probably have a much faster system since this was our first attempt at anything like this. I'm very happy with the results and everyone who buys a copy will have something unique. Remember, these were hand-printed by Billy Martin and company--an old-school approach. Thanxs to Andrew (who took on a lot of the cover printing job), Owen (for rounding everyone up and co-ordinating the printing project), Adam, Sharkey and Jamie (for quality control and companionship).
-Billy Martin, November 19, 2001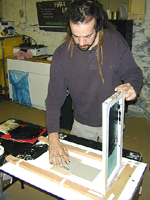 Andrew printing covers