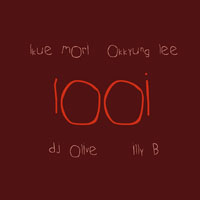 #1
#2
#3
#4
#5
#6
#7
#8
#9
#10
#11
#12


Ikue Mori laptop

DJ Olive turntables, laptop

Okkyung Lee cello

illy B percussion




IOOi is an experimental quartet that utilize electronics, percussion and cello. New York City's finest musical improvisers Ikue Mori, DJ Olive, Okkyung Lee and illy B (Billy Martin) began their experimental foray at John Zorn's The Stone in 2005. This performance was recorded and will be available (via digital download only) this fall 2007. IOOi has an upcoming rare performance at Merkin Concert Hall, NYC April 28th 2008 at 8pm.
Ikue Mori formed the seminal NO WAVE band DNA in the late 70's with Arto Lindsay and Tim Wright. She has won won the Distinctive Award for Prix Ars Electronics Digital Music category in 99. Recieved the grant from Foundation for Contemporary Arts in 2006. Tate Modern commissioned the live sound track for Maya Deren's silent films and premiered in 2007. Current working groups include MEPHISTA with Sylvie Courvoisier and Susie Ibarra, projects with Kim Gordon, duo project PHANTOM ORCHARD with Zeena Parkins, various projects with John Zorn and Fred Frith.
DJ Olive (aka The Audio Janitor) is a disc jockey and turntabalist active in free improvisation, jazz and illbient music. He is often credited with coining the latter term. A significant member of We and Liminal Olive has also collaborated with Derek Bailey, Kim Gordon, Zeena Parkins, Christian Marklay, Uri Caine and many others. Exhibitions include: Treble, Brooklyn Sculpture Center, City Sonics, Mons, Venice Biennale and Whitney Biennials. He has several solo CD releases including Bodega and Bouy available at www.theagriculture.com.

Since moving to New York the native Korean cellist Okkyung Lee has performed with Laurie Anderson, Nels Cline, Shelley Hirsch, Min Xiao Fen, Vijay Iyer, Marc Ribot and others. She is featured on several recordings including her solo debut Nihm (Tzadik), My Cat is an Alien with Christian Marklay, a collaboration with artist Colin Stinson for his art book Dust to Dust, and a solo cello album I Saw the Ghost of an Unknown Soul on Thurston Moore's Ecstatic Peace imprint.

illy B (Billy Martin) is well known as jazz drummer for the avant-funk trio Medeski Martin and Wood. He has performed with John Lurie and The Lounge Lizards, Marvin Pontiac, Iggy Pop, Paul Auster, Dave Burrell, Chris Whitley, Maceo Parker, Bob Moses, Grant Calvin Weston. Soundtracks include Get Shorty, The Backyardigans, Fishing With John, The Sopranos, etc… Martin formed his own record label Amulet in 1995 and has produced over 25 records since. Last year, his Starlings chamber orchestral music was released on John Zorn's Tzadik imprint. Martin is also a visual artist and includes his newly invented graphic notation in his drum book Riddim: Claves of African Origin (Music in Motion Films).