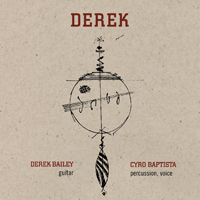 1- Sheffield F.C. 27:41
2- Ubachuva 16:50

DEREK BAILEY & CYRO BAPTISTA
DEREK
Derek Bailey : guitar
Cyro Baptista: percussion, voice





Our improv-guitar hero, Derek Bailey lives on through this intimate musical celebration with pastime collaborator, percussionist/vocal master Cyro Baptista.
Snaking through unknown musical landscapes, discovering paths and creating new dialect along the way. These two masters have a connection unparalleled in the avant-garde world and they celebrate it for the last time at NYC's legendary performance space Tonic.

21 years ago, Derek Bailey asked Cyro Baptista to record an improvised duet session and soon after released CYRO - one of Dereks' first titles on his own independent Incus record label. 3 years ago, Derek and Cyro had a reunion concert at NYC's Downtown club Tonic to celebrate their creative-musical partnership. Derek gave Cyro his blessing to release this special edition CD on Amulet records several months before his untimely death last year.

Derek Bailey is one of the icons of the avant-garde musical community. A fiercely independent artist, Derek has influenced many musicians throughout his career that spans over 5 decades. He has released hundreds of recordings, many of them on his own independent Incus label and some of his most recent works on John Zorn's Tzadik. Many artists have collaborated with Derek including Fred Frith, Anthony Braxton, John Zorn, Cecil Taylor, Lee Konitz, Pat Metheny, Suzie Ibarra, Bill Lazwell, Tony Williams, Han Bennik, and The Ruins…

Cyro Baptista has recorded with a wide range of artists including John Zorn, Wynton Marsalis, Herbie Hancock, Sting, Paul Simon, Cassandra Wilson,and Trey Anastasio.