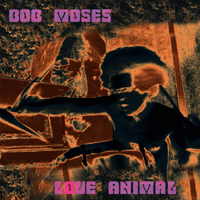 Recorded between 1967-68 at Vanguard Apostolic Studios in NYC. This was the time of the cult Jazz-Rock band 'The Free Spirits' with Larry Coryell, Jim Pepper, Chris Hills, Columbus Baker and Bob Moses. Moses was 19 years old and this (Love Animal) was supposed to be his first solo album. All this material previously unreleased except track 3. These young musicians were experimenting with powerful drugs and listening passionately to B.B. King, Robert Johnson, Marvin Gaye, Stevie Wonder, Aretha Franklin, James Brown, the Beatles, the Stones, Bob Dylan, The Band, Mongo Santamaria, Eddie Palmieri, Ray Baretto, Coltrane, Miles, Mingus, Monk, Bill Evans, Albert Ayler, Ornette Coleman, Eric Dolphy, and many more.
Moses says "The music on Love Animal is raw, messy, over the top and mad eclectic but that was the truth of our lives at that time and tho we jumped musical styles like manic kangeroos, I can honestly say we also routinely pushed and expanded the boundaries of those territories to the limit. I.E. we never played any style in a stock, typical or lackadaisical way.
And there are some great musical moments here, Keith Jarrett's profoundly beautiful solo on "Smoke Gets in Your Eyes", Steve Swallow's rich tone and across-the-bar phrasing on acoustic bass, Coryell's blistering other worldly guitar playing on "Dancing Bears" and for me most of all another chance to hear the great Native American saxophonist Jim Pepper who I believe is one of the most powerful, unique, soulful and under appreciated voices in the history of the music."