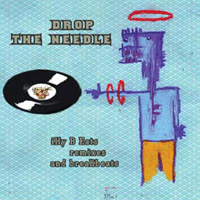 VARIOUS ARTISTS
DROP THE NEEDLE - ILLY B EATS REMIXES AND BREAKBEATS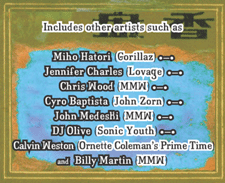 At first, Billy Martin didn't even like the idea of making a breakbeat record. "DJ Logic was on tour with MMW," says Martin, "and one day we were playing around at soundcheck and he said, 'You should make a breakbeat record!' And I was like, what's a breakbeat record?"
Martin, drummer for the renowned jazz trio Medeski Martin & Wood (MMW), was deeply enamored with polyrhythmic avant-garde percussion at the time. It took him two years to come back around to the idea of making illy B Eats: Groove, Bang and Jive Around, a record of more danceable funk beats for DJs and others to use in their own creations. The idea to have people send in the music they made with Martin's beats came much later, just before the record was sent off to the pressing plant. "At the last minute, I decided to stick in an insert that said, 'Send in your mixes for possible inclusion on a follow-up compilation," Martin says. "The only rule was that it has to groove."
In the year since Groove, Bang and Jive Around was released on Amulet Records, the independent, percussion-focused label Martin started in 1995, Martin has indeed received many submissions from jazz musicians, rock groups, singers and rappers. The best of these tracks, as well as several contributions by Martin's friends, are collected on Drop The Needle, the first in an intended series of releases featuring Martin's beats.
Like rhythm records in the reggae world, Drop The Needle shows the vast diversity of music that can be made when a single element is filtered through the creative processes of many different musicians from various styles and backgrounds. Martin's beats form the foundation for avant-garde experimentation (Sex With Robots' "Moderndicksealand"), trance dreamscapes (Spacefuzz's "Out of Your Mind"), hip-hop (contributions by Stainless Steele and Bombay Sapphire), sultry funk ("Double Game") and instrumental pop (Monk-One's album closer "Sun Flower").
In addition to letting the record-buying public contribute to the project, Martin also produced tracks with a number of other recognized musicians, including his MMW bandmates John Medeski (keys) and Chris Wood (bass and guitar); vocalists Miho Hatori (Gorillaz, Cibo Matto), Jennifer Charles (Dan The Automator, Live) and Calvin Weston (Lounge Lizards, Ornette Coleman); percussionist Cyro Baptista (John Zorn, Trey Anastasio); and turntablist DJ Olive (Thurston Moore, MMW). Some of these collaborations were produced in studios; others were remixed from live performances, most notably 2001's Turntable Sessions concert series, where Martin brought together downtown New York jazz luminaries with DJs, rappers and other musicians.
But the chance to make music with musicians from around the country (and as far away as Japan) whom he had never met or worked with before was one of the highlights for Martin in assembling Drop The Needle. "It's an interesting way to get to know people without meeting them," he says. "This is an opportunity for someone who hasn't been able to get out of their bedroom to play, but they can make interesting music, they have real talent."
Of course, for a musician as accomplished (and continually busy) as Martin, it's a unique chance to make music with dozens of people with whom he wouldn't otherwise be able to work. The son of a concert violinist and a Radio City Rockette, Martin discovered his older brother's drum set in the seventh grade, and never looked back. From his high school marching band in New Jersey to the Manhattan School of Music to conducting at Julliard to membership in John Lurie's Lounge Lizards and Chuck Mangione's backing band, Martin has practically been drumming non-stop since age 13. He has also worked with a wide range of artists on stage and in the studio, from punk icon Iggy Pop to bluesman Chris Whitley to jazz guitarist John Scofield. Today, he tours and records frequently with MMW and runs Amulet Records' day-to-day business.
Martin started Amulet Records as a means to producing percussion music, both his own creations and those of other adventurous drummers. "I've always been into being as independent as I could be. I really believe in artistic freedom," he says. He was playing in John Zorn's band, and when the eminent sax master started his own label Martin was inspired. He was also teamed with Calvin Weston as the percussion section in John Lurie's group at the time, and the twosome captured their ample chemistry on the album Percussion Duets; Martin started Amulet to self-release the record, and has since put out eight other albums by artists including Bob Moses, Scotty Hard, David Baker, Tisziji Munoz and himself. "I listen to a lot of different percussion music - modern, classical, avant garde, folk, jazz, rock, hip-hop," Martin says. "It's an endless world. I'm at the point where I feel like that's enough for me to make music with. I don't need to have a formal education in orchestral composition or jazz arranging, even though I delve into that stuff. I want to push the boundaries, expand the language of drumming and percussion."
Martin's already well on his way toward that end, and Drop The Needle is a unique endeavor that proves the point. Martin offered the world his abundant drumming chops, and the world responded in kind. "I don't have any rules about how people make music," he says. "To me, if they do something interesting, and it moves me in a certain way, that's good enough." Martin is considering including some tracks that didn't make the cut on Amulet Records' website, and for its release Drop The Needle will be packaged with Groove, Bang and Jive Around so the next round of contributors can get to work. "If you really think you're good, then this has gotta be the easiest possible offer to create something special and get it out to the world," he says. "This overall idea has really come true. It's an exciting thing."
Click here to check out the "illy B Eats report archive". You can read more about the submission process and what went into making Drop The Needle.