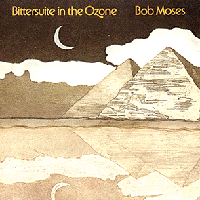 This is true soul music, with the soul of Bob Moses shining forth from every facet of this production.

BOB MOSES
BITTERSUITE IN THE OZONE
"The measure of pleasure and insight one derives from Bittersuite in the Ozone in large part depends on the openness of ones ears, mind and soul. To say that it's one of the more important albums of the year is a cliche. This album is cliche-free.






" - Downbeat (1973)